HELLO INSPO
De Goldfish Favorites van…
Waarom één dag feesten als het ook een heel jaar kan?
Yes! Ons jubileumjaar wordt er één in échte #goldfishstyle.
Welkom terug op ons Goldfish terrazza, waar we jou feestelijk verwelkomen met onze classic mimosa-en-snoepjes-combi, met leuke verrassingen, met superveel enthousiasme en…
met elke maand een Special Goldfish Guest.
"Twee keer per jaar palmen we hier voor een paar uur een pashok in" lacht Iris Nechelput. "Ik hol op en neer, terwijl Dolores (bijna 9), Filippa (bijna 7) en Gloria (1,5) passen, passen en passen. Otto-Jan zit meestal ergens op een stoel, begraven onder een berg outfits. En hoewel dat nu nogal stresserend klinkt, is het éigenlijk een supergezellige gezinsuitstap. Met dank aan de 'Goldfish-sfeer': altijd vrolijk, ongedwongen en bijzonder tolerant voor onze chaos."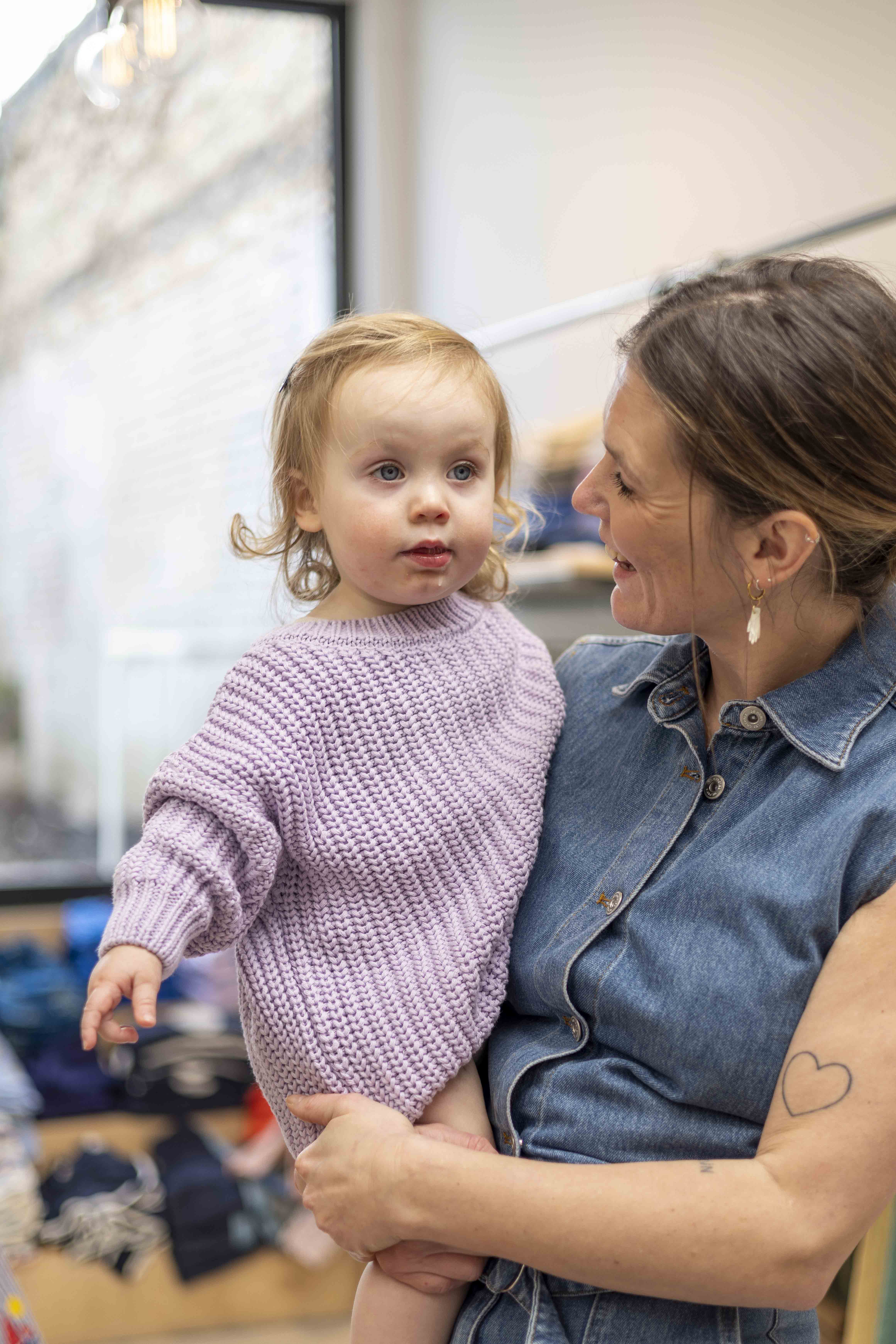 Onze Goldfish connection: "Goldfish is voor ons een gezinsuitstap"
Iris: "Ik heb drie dochters en ik vind het fijn dat ze mooie outfits dragen (lacht). Dan stap je op een mooie dag sowieso bij Goldfish binnen, toch? Toen ik zwanger was van Dolores – 9 jaar geleden – keek ik niet verder dan de kinderafdeling van Zara of H&M. En toen ontdekte ik een parallelle wereld vol met fantastisch mooie en eigenzinnige kinderkleren. Naar Goldfish gaan werd een traditie. Een keer per seizoen komen we hier op officiële gezinsuitstap (lacht) om alle drie de meisjes in het nieuw te stoppen."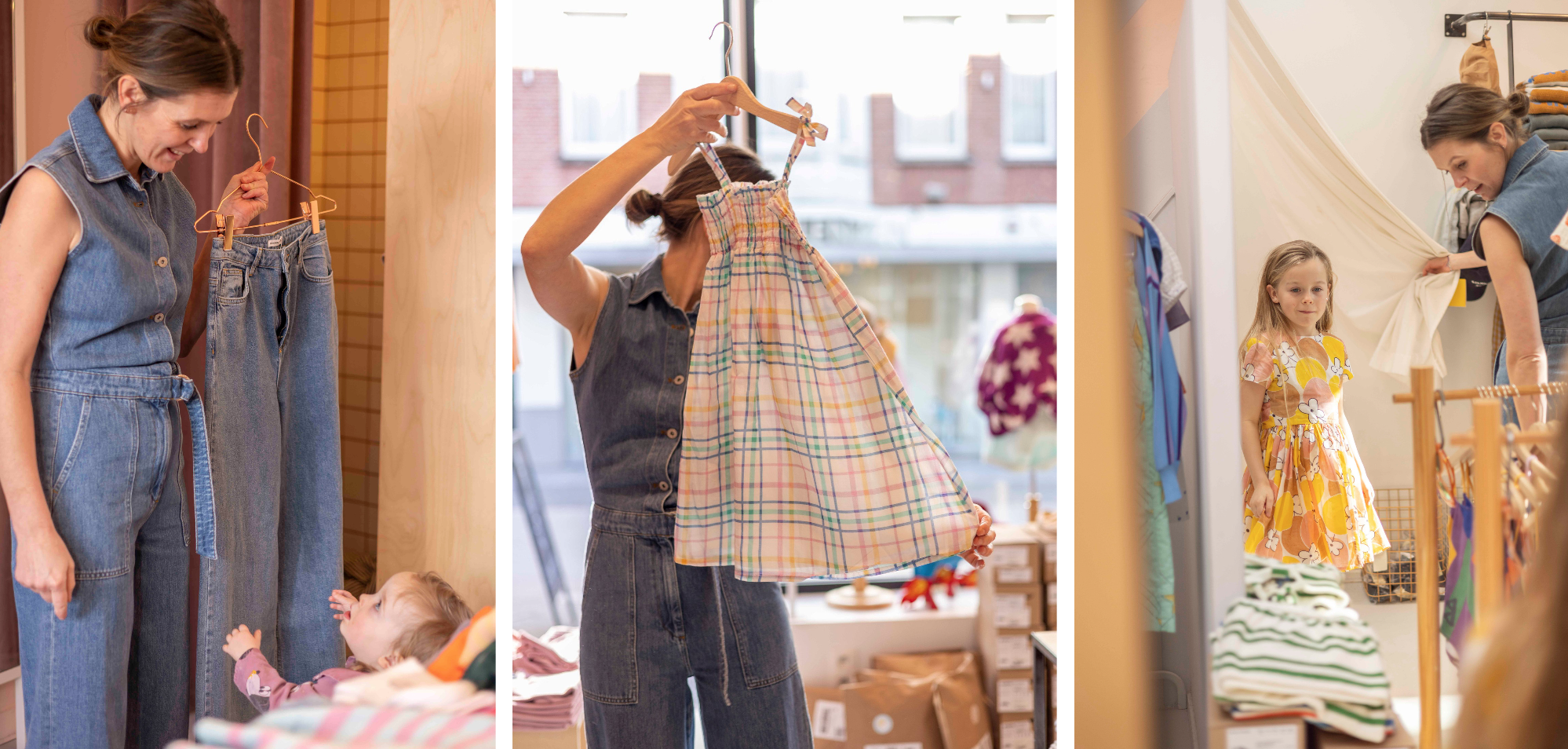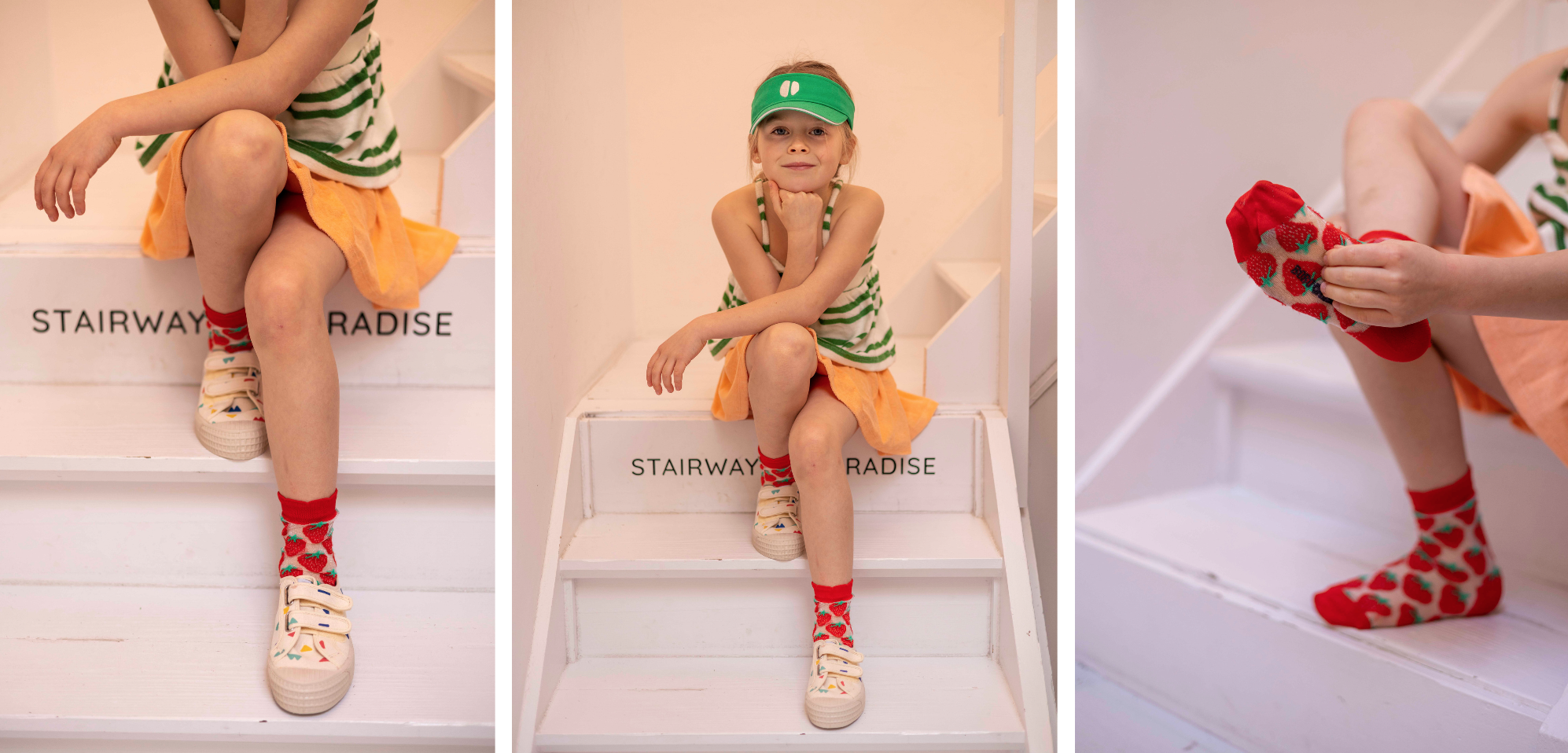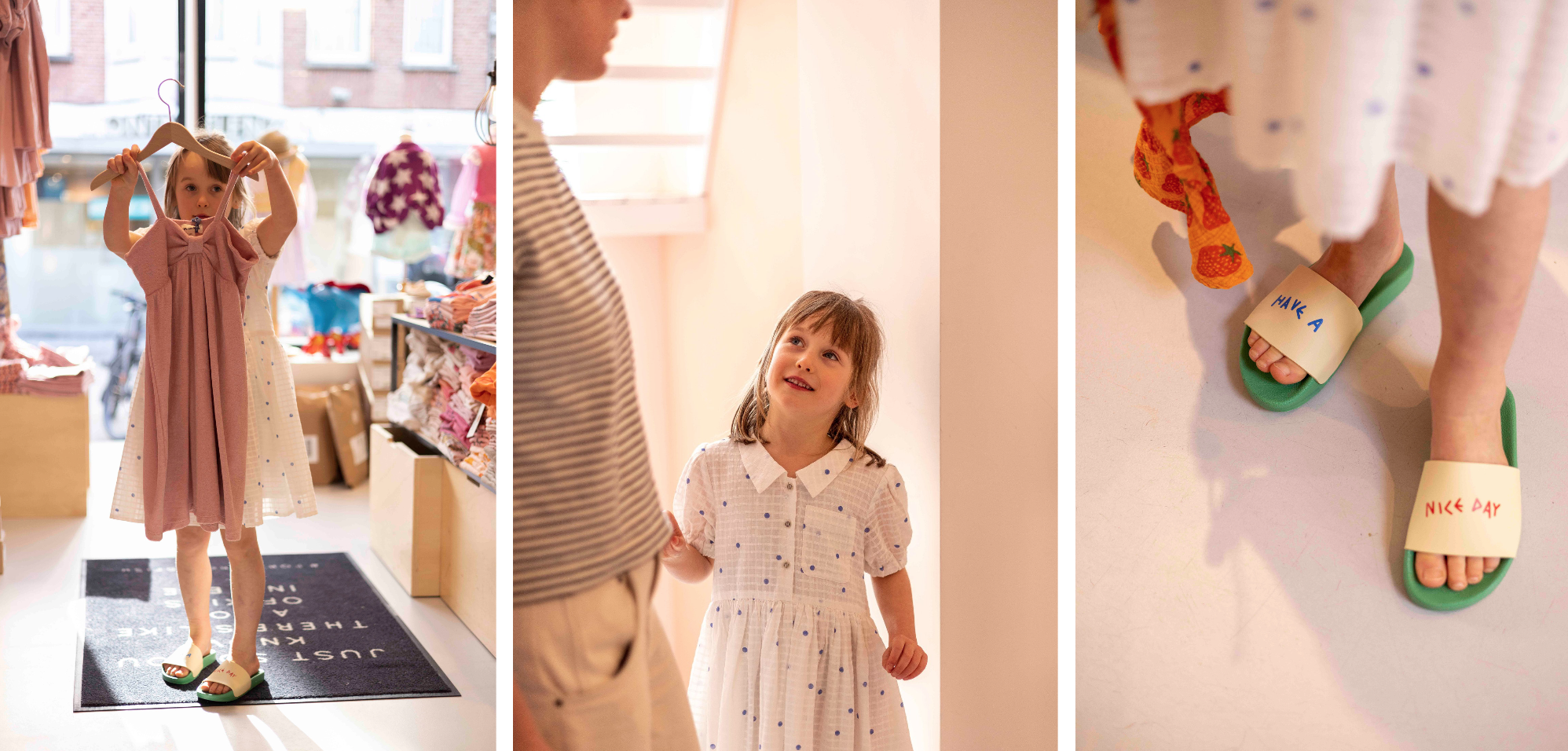 Klik op de foto's om Iris' favoriete items te shoppen.
Goldfish love: "Die laissez-faire-sfeer!"
"Hoe hard kan je je eigenlijk op je gemak voelen tijdens het shoppen? Dat vind ik geweldig aan Goldfish. Het voelt hier tof, gemoedelijk en ongedwongen. Eva weet dat de meisjes en ik graag eerst zelf wat door de rekken neuzen. Ik word zenuwachtig als ik ergens binnenstap en er meteen iemand in mijn nek komt hijgen. Geef mij even (lacht). Bij Goldfish bestaat dat gevoel gewoon niet! Iedereen is hier blij en er hangt altijd zo'n laissez-faire-sfeertje. Doe uw ding maar. En geef een gil als we kunnen helpen. Dat stelt me op mijn gemak. En ben ik rustig, dan pikken de meisjes dat ook weer op. En dan voelen zij zich ook fijn. Zo is het leuk winkelen."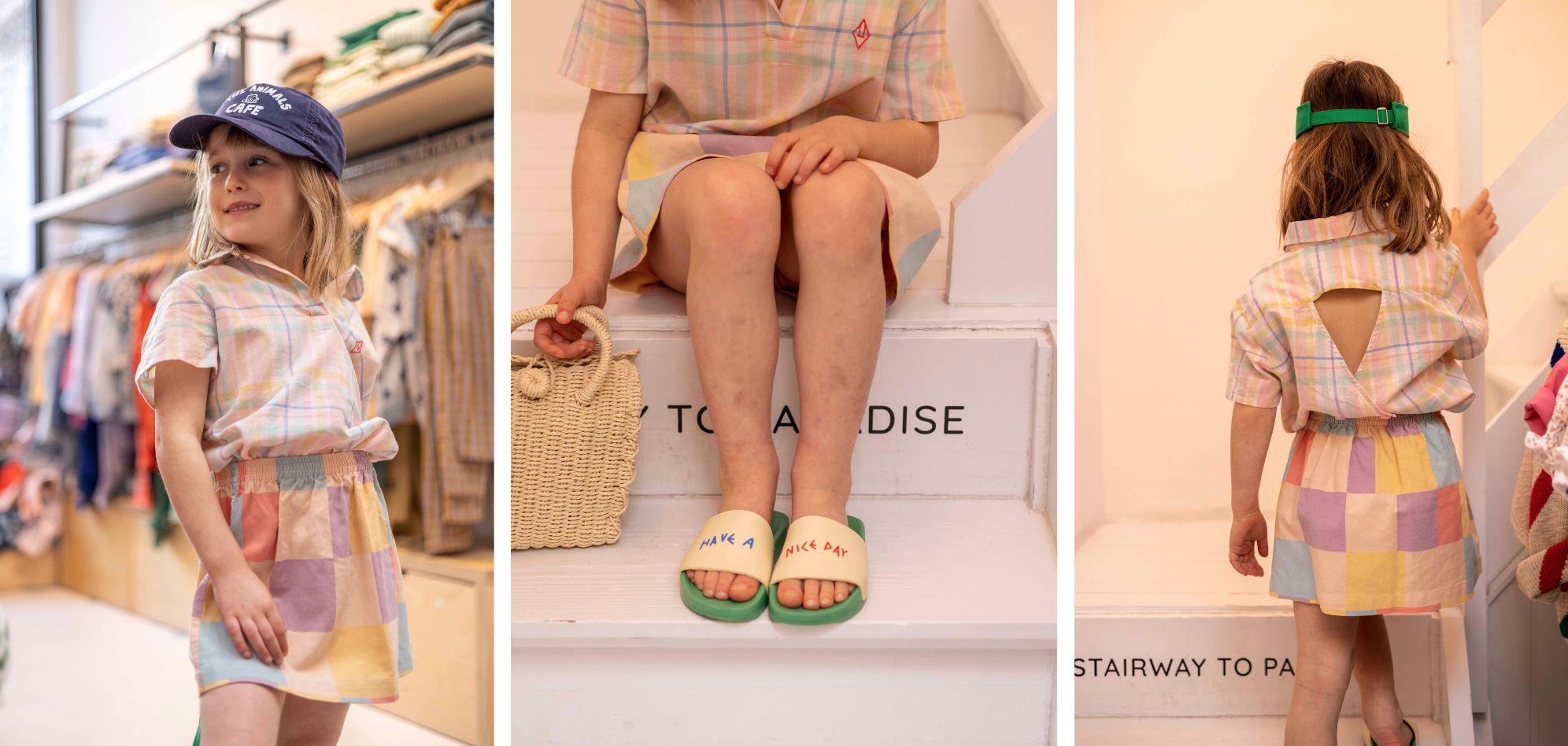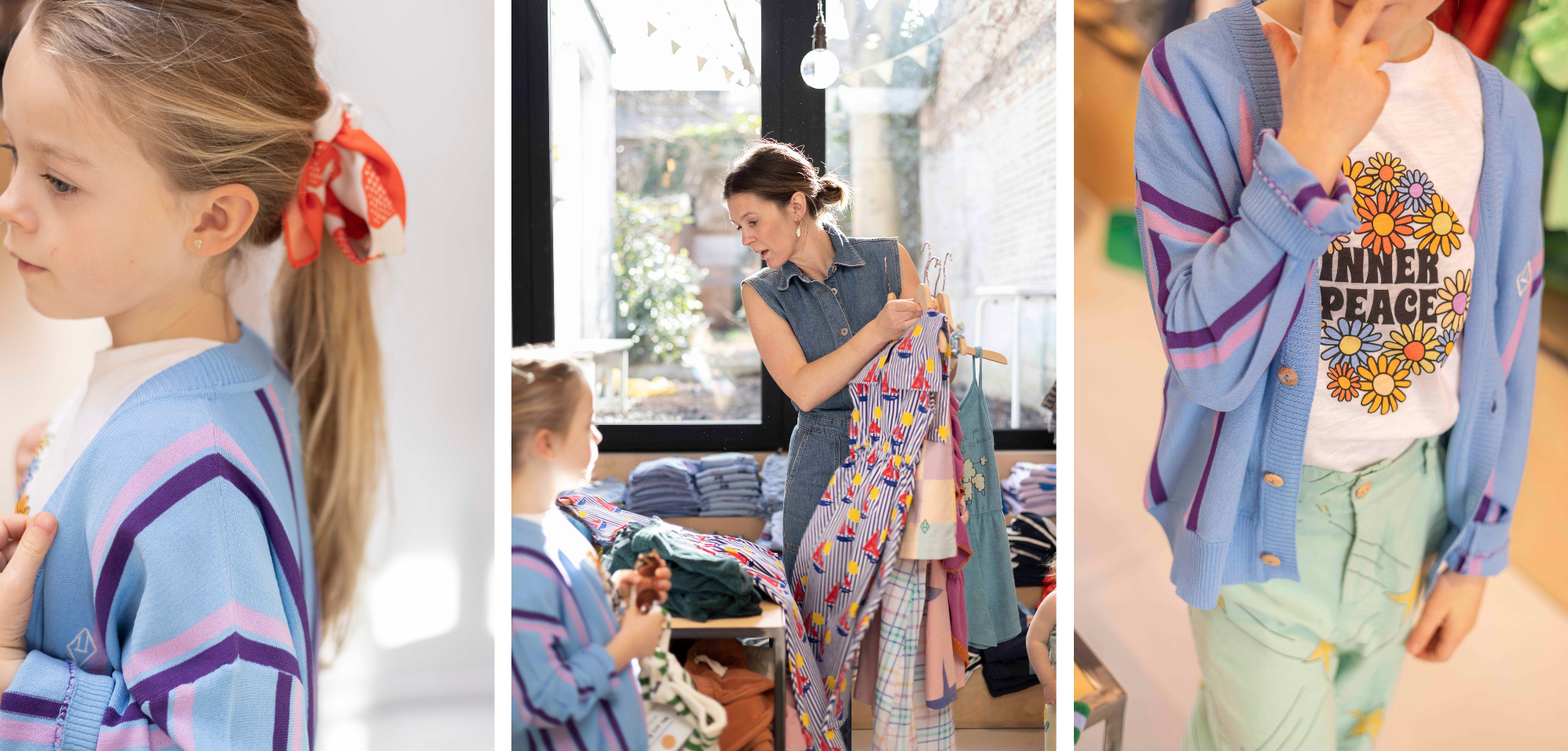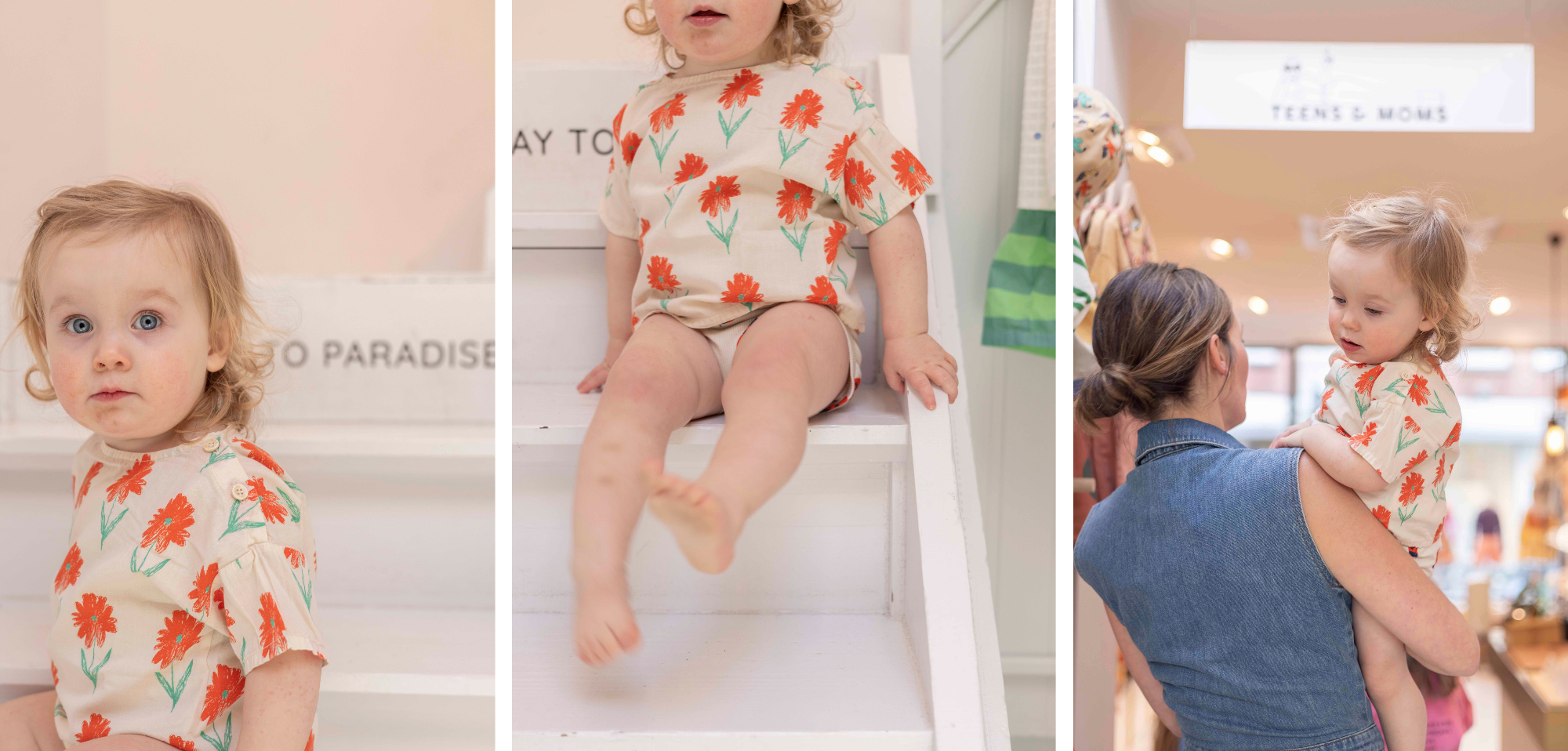 Zo shoppen wij: "Wat in het oog springt, passen we"
"We gaan er stevig in op hoor (lacht). Kiezen, passen, nog kiezen, nog passen. Meestal installeren we ons in het pashokje boven. Die trap op en af. Ik zweet me een ongeluk (tegenwoordig doe ik al laagjes aan!) en vervolgens laten we een soort van kleren-puinhoop achter in de winkel. Of zo lijkt het toch in mijn hoofd. Maar goed: dat is dus helemaal oké bij Goldfish! Je hoeft je hier niet te schamen voor je chaos. Voor een heel seizoen voor drie kinderen kiezen, is behoorlijk intensief, maar toch geen stresserende ervaring. Wij gaan altijd met een grote glimlach en drie blije meisjes naar huis."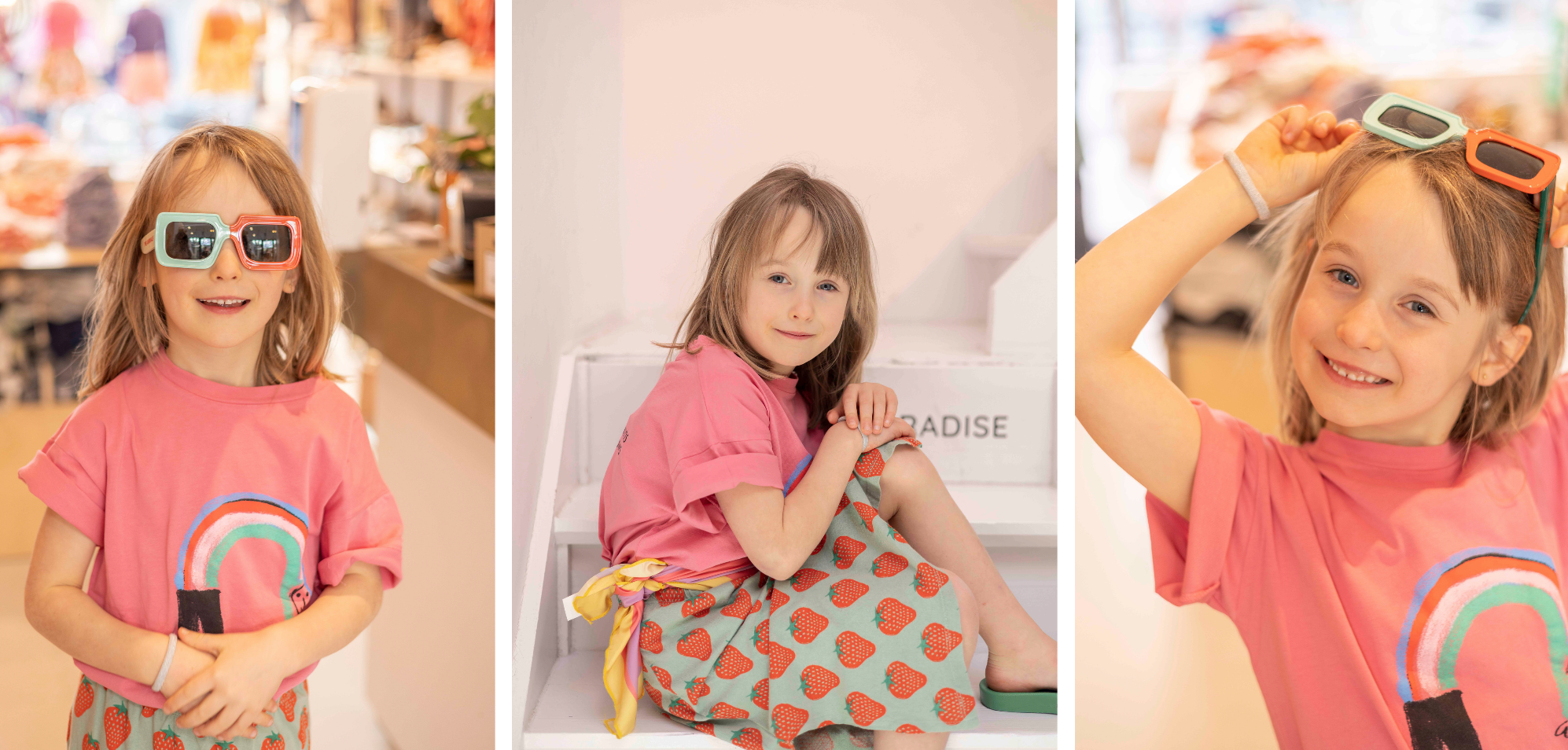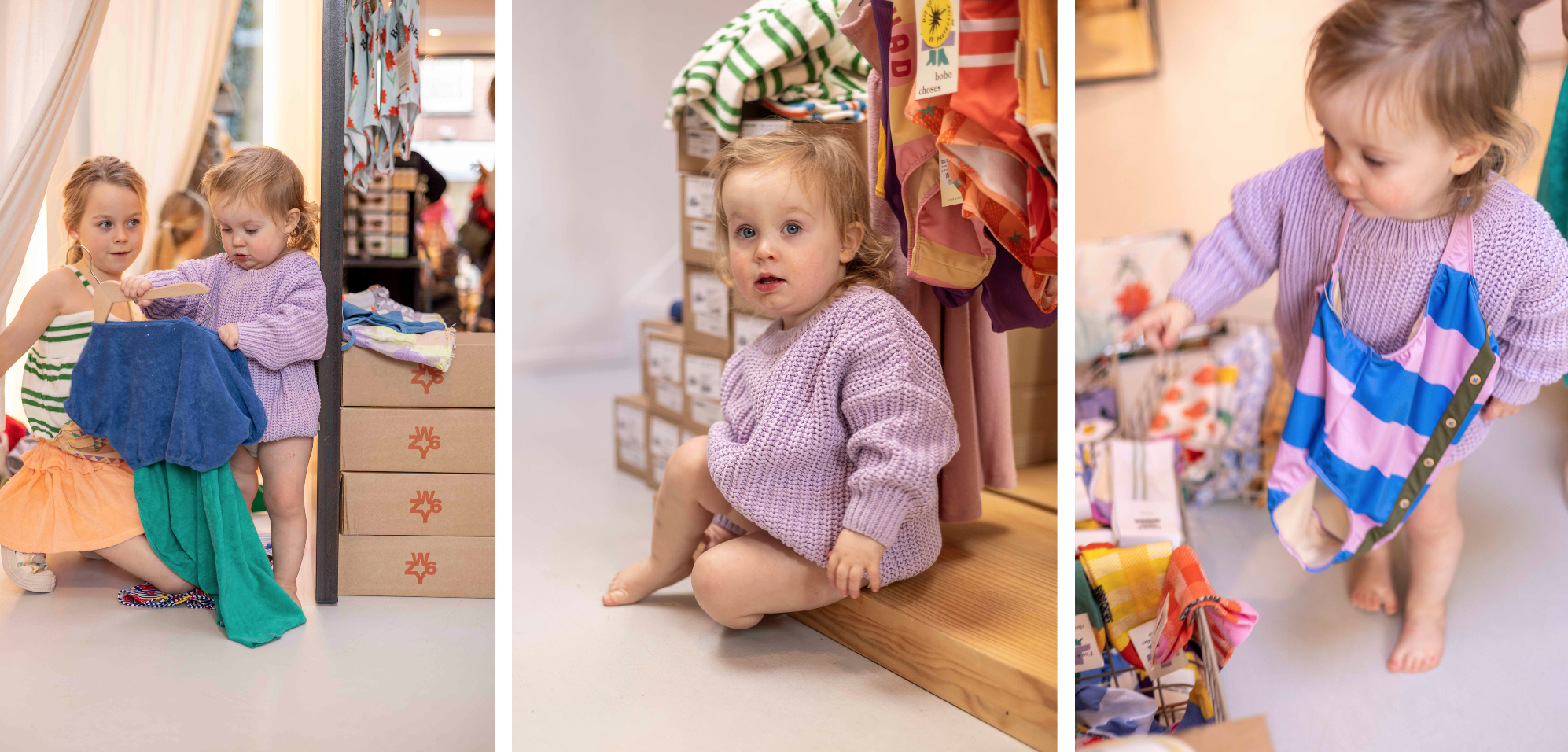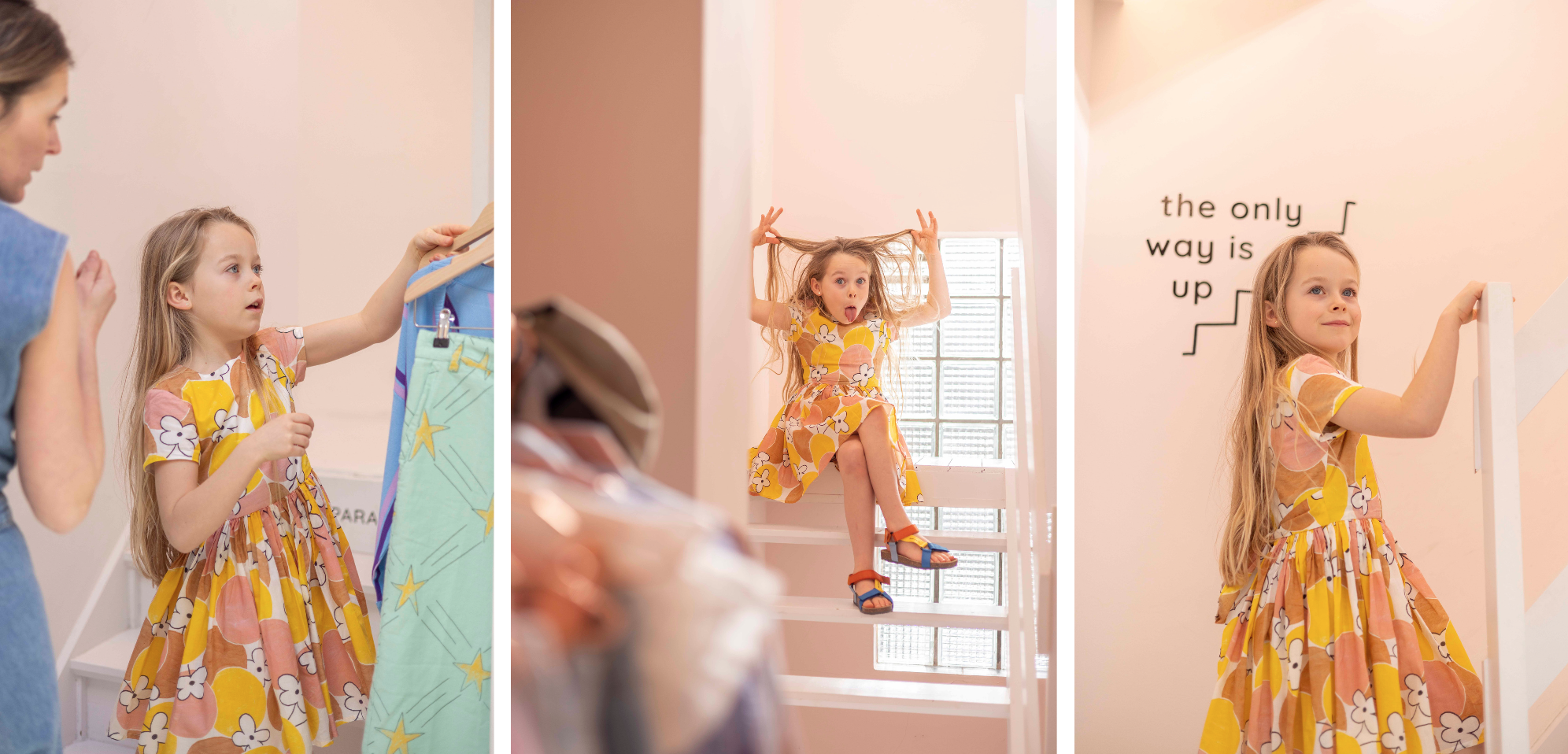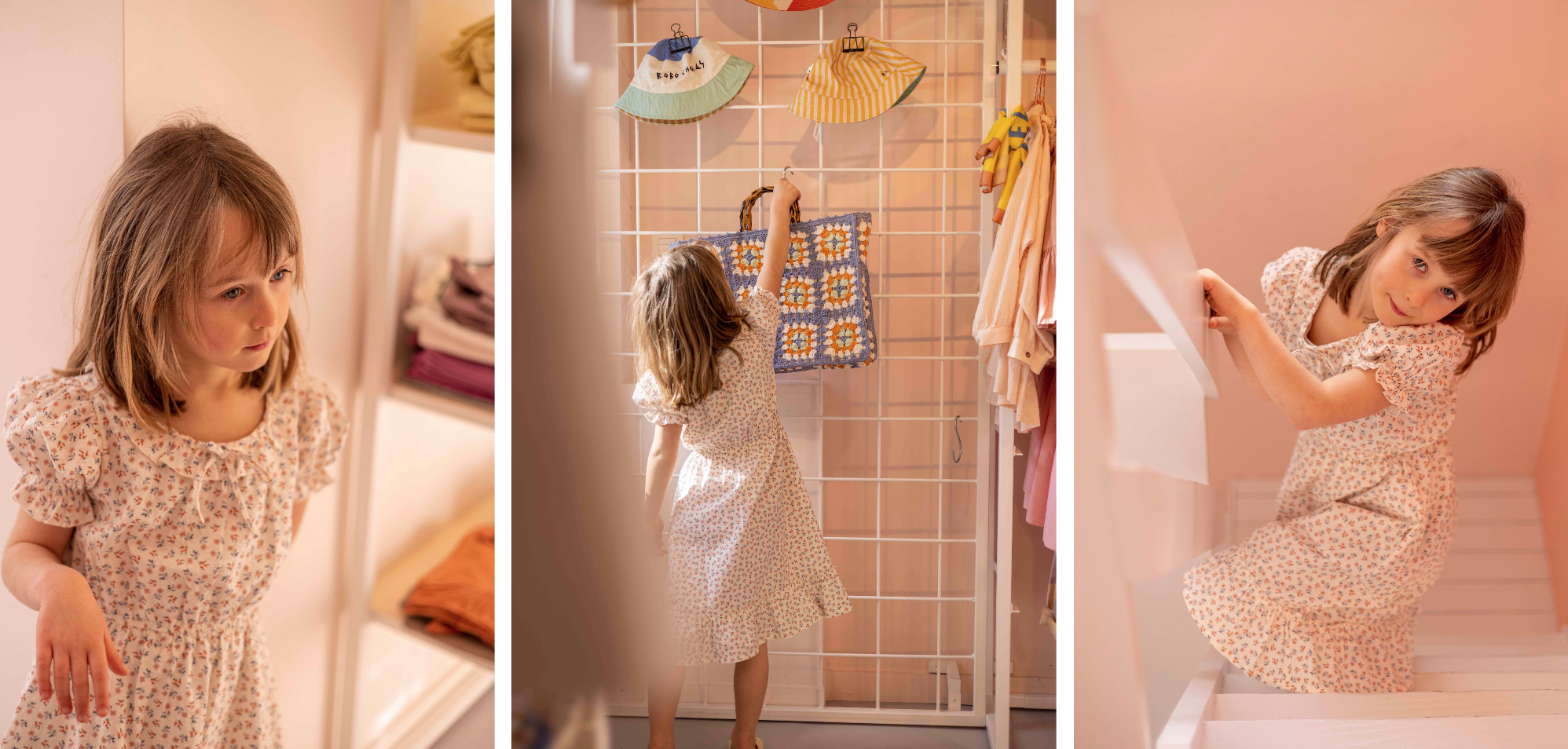 Hun Goldfish-favorites-collectie: "Veel spons, veel kleur, veel prints"
"Dolores ging nogal hard op de co-ords in spons. En Filippa werd zoals altijd heel erg aangetrokken door felle kleuren en prints, die ze dan het liefst allemaal door elkaar draagt. Er belandde veel TAO, Weekend House Kids en We Are Kids in onze mooie grote, tote bags, dit seizoen. Gloria is de enige waar ik nog wat aan te zeggen heb (lacht), dus die heb ik in vrolijke Bobo gestopt. Dat lieveheersbeest-printje!"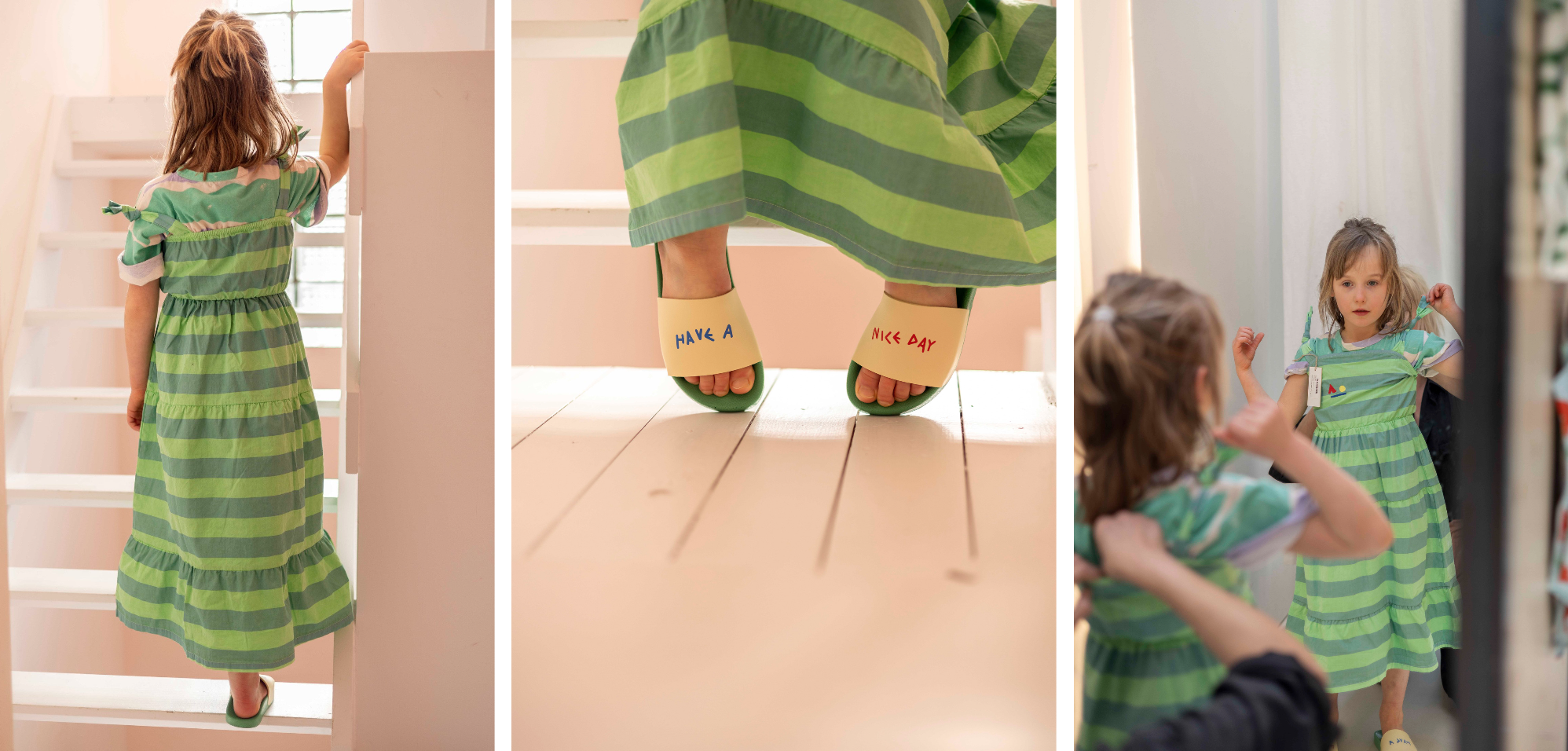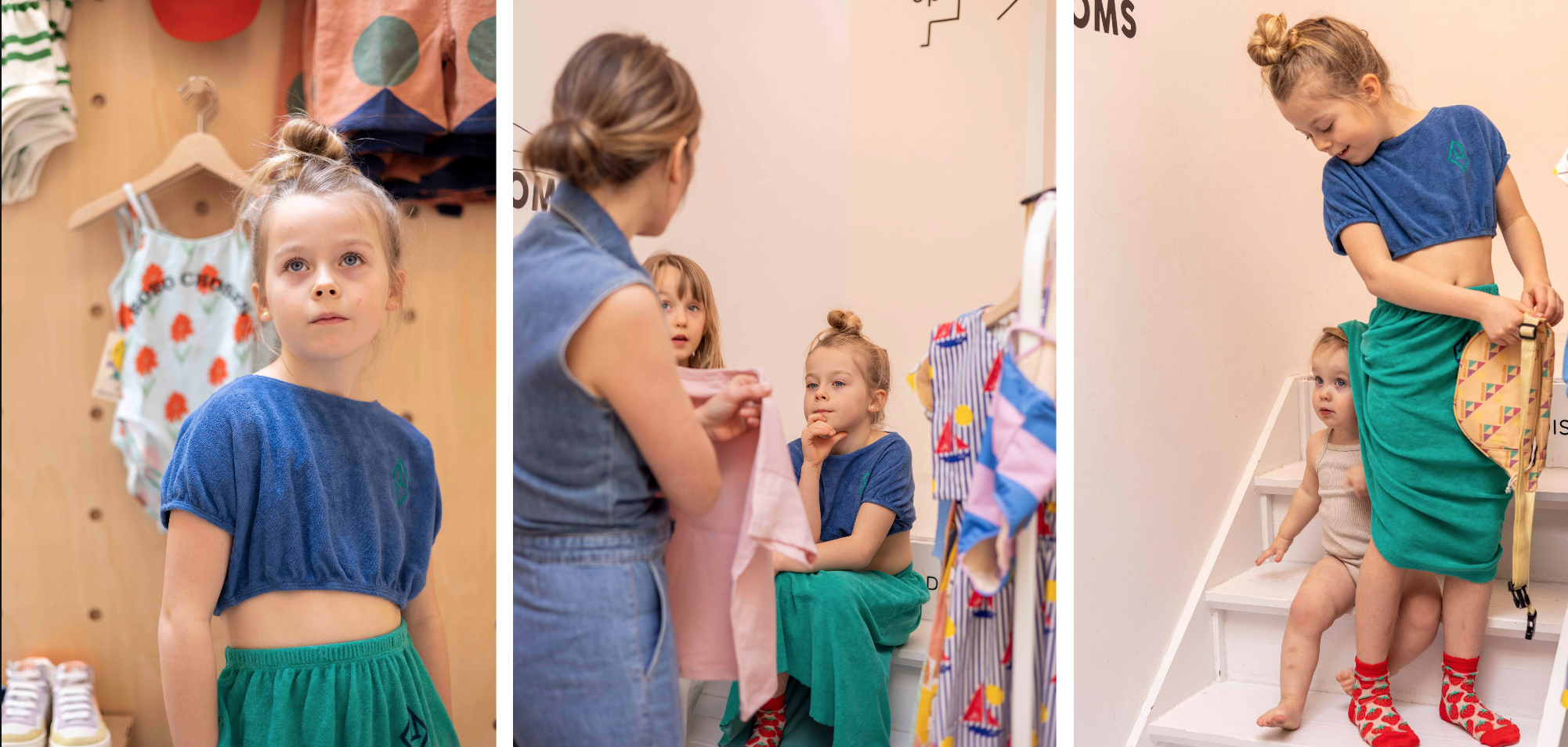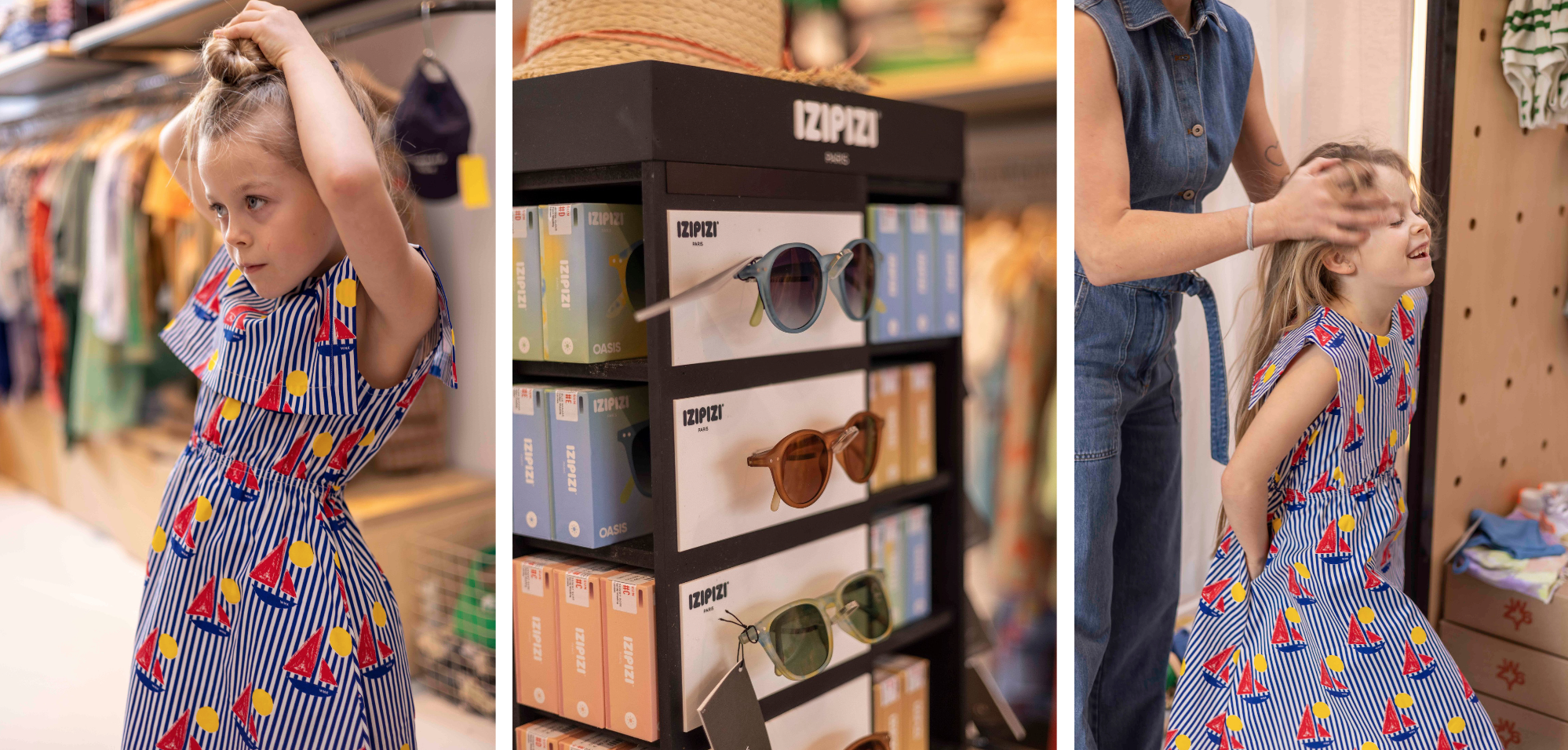 Iris zit op insta. En ze maakt ook vrolijk keramiek. Check @atelier_nechelpot voor een voorsmaakje of een subtiel glimlachende koffiemok.
Klik hier om Iris' favoriete items te shoppen.